Truth Talks: Destiny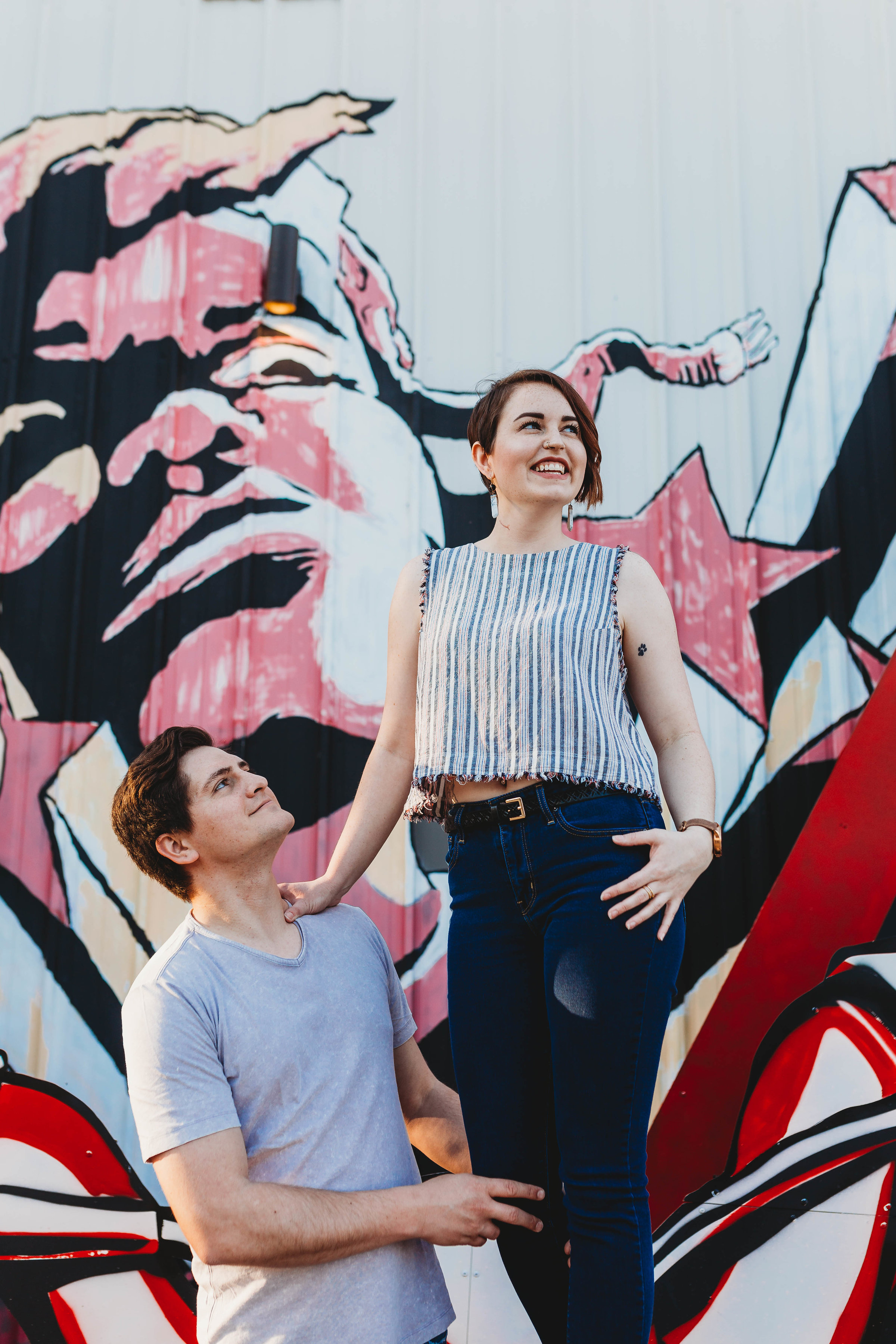 I don't even know how to introduce her, other than to say that you need to know her. When I think of Destiny, the first words that come to mind are heart, thoughtful, and intentional. Her zest for life is contagious, and she just radiates happiness - not the blissfully unaware, happy-go-lucky happiness, but the "I am choosing to be happy" kind of happiness, the kind that matters. I'm so grateful that she agreed to speak with me, and I hope you enjoy this Truth Talk as much as I did. 💛
Today is World Cancer Day. What do you want people to know about cancer that they probably overlook or have yet to even think about?
As we all take a moment to pause on World Cancer Day, I hope people will allow themselves to feel empathy for those who are currently undergoing treatment, who have overcome cancer, who are caregivers, and who make caring for cancer patients their career. Allowing yourself to acknowledge the less than perfect parts of life is hard but necessary.
People like Kaz and Olivia make cancer look pretty glamorous, it's absolutely horrendous for everyone involved.
I hope that people are reminded to take care of themselves. Listen to your body and see your doctors regularly.
I went to the doctor for what I thought may have been the flu and came away with a cancer diagnosis. According to cancer.gov, "approximately 38.4% of men and women will be diagnosed with cancer at some point during their lifetimes (based on 2013–2015 data)."
Unicorns have been your mascot since you started this journey - what's the story behind that?
I'm not entirely sure when the unicorn first made an appearance in my life but in graduate school, my best friend and I joked that I was her black unicorn and she was my rainbow mermaid. Years later, I received a golden journal with a unicorn charm as a gift. Unicorns kept making their way into my life and then became so on trend.
When I was diagnosed with cancer, I knew I would need a name for the support network that I would lean on so heavily and I started calling them Team Unicorn.
The irony became even more apparent when the Monday before my first chemotherapy session was National Unicorn Day. My incredible work-family threw a party that was absolutely perfect.
My boyfriend jokes that it looks like we have a toddler living in our house because what was once a home decorated in neutrals is now filled with purple, blue, and pink unicorns. My support network has an incredible way of finding the best unicorn gifts! I have everything from a unicorn horn bought all the way in Brooklyn to a huge unicorn floaty that lived in my living room for weeks.
I think the greatest thing about the unicorn as a mascot is the idea that they hold the ability to heal and they possess magic that gives one hope in even the most desperate of times.
The unicorn has become my beacon of hope and symbol of triumph but it now serves as the same for so many others in my life.
🦄
I think one of the biggest aspects of fighting cancer is the mental aspect of it. It's such a grueling, emotional journey with so many ups and downs, and I really can't imagine anything worse than that. How do you handle it?
Wow. This question is such a difficult one! The journey of fighting cancer is absolutely an emotional and grueling one. I remember feeling defeated when I received my diagnosis.
"I think I pulled myself out of the depths of sorrow and anger when I finally realized that my diagnosis was real and the battle for my life had begun. I knew I could either let life happen to me or I could take control. I knew I needed to have a positive attitude on the good days and a compassionate attitude toward myself on the bad days."
I spent a lot of time feeling my emotions, understanding that they were valid, trying not to dwell in them, and then sharing them with others. I sought people with similar experiences who would understand me. I connected with total strangers who later became some of the most important parts of my community.
What do you do for self-care? How do you keep it a priority?
I learned through this process how important it was to really feel my emotions instead of compartmentalizing them and setting them aside. I spent time with a therapist weekly. I wrote down the things that I had to let go of so they wouldn't rattle around in my mind. I spent a lot of time allowing myself to rest. I created an oasis on my porch and put out seed to attract squirrels and birds. I spent time allowing myself to slow down and enjoy the ability to do the simplest of things. Every successful attempt at normalcy, no matter how small, felt like a huge victory. I tried hard to find what truly brought me joy and did my best to integrate as much of those things into my life as possible.
You're so open about your journey on your Instagram posts - how do you find the courage to share so transparently, to open your heart to others? Personally, I have been so touched by what you share.
I felt so out of control when cancer crept into my life that I knew I needed to find a way to control something, anything. I decided I wanted to create content that captured my experiences and allowed me to share them with others.
Sharing my experiences felt natural as I've spent my entire life trying to live as authentically as possible. I recognize that we all have such powerful stories that need to be told in order to both help and inspire others.
As comfortable as I was sharing in conversations, baring my soul on the internet did feel a little uncomfortable at first. As I began to share, I began to realize how powerful the truth was for myself and so many of the people reading my posts. I've received nothing but kindness in return.
The older I get, the more I realize how rare good health is and not only how easy it is to take advantage of it, but how many people are fighting illnesses that aren't necessarily visible. What advice do you have for those who are fighting cancer or other chronic illnesses?
You're absolutely right! Good health seems so fleeting. I know so many people with both mental and physical health issues. It's disheartening, kind of scary, and a good reminder to cherish each day.
If you're newly diagnosed, don't feel bad for feeling overwhelmed by what is happening to you or for leaning on your support network. Find what makes you happy and do as much of it as you can!
How has cancer changed you? How hasn't it?
Cancer hasn't changed who I've always been. I still want to devote my life to making the lives of animals better. My dog and cat are still my entire world. I love the same food, style, and music. I'm passionate about the same causes.
I think what has changed is my perspective. I've been fortunate enough to be shown how fragile life is and how important it is to remember that. I've gone from living life for scratching off a to-do list to living life for happiness.
I hug my loved ones just a little bit longer and tell them I love them more often.
Cancer builds community. How can someone like me support their friend or family member who has recently been diagnosed?
It's hard for me to say how you should support someone because I think everyone has wildly differing and valid reactions to finding out they have cancer. For me personally, these are the things my friends and family did that were most helpful:
They treated me normally but understood that my life was particularly difficult even when I kept a brave face.

They listened to me and validated my feelings when I wanted to talk.

They normalized things like shopping for wigs.

They did NOT ask me how I was feeling or doing. They asked things like, "What's something new you've observed today?"

Everyone pitched in where they felt they could. This meant some friends took me to treatment, some cooked, and some helped pay bills.
Don't be afraid to just ask how your friend wants to be supported. Don't be surprised if they need time to answer this question or change their minds.
Today is World Cancer Day, but to some people, it's just another Monday. Like you've said before, cancer forces you to really put things into perspective and think bigger. What is one thing everyone should do today, this week?
"Breathe. Stop and breathe. Inhale and exhale intentionally.
It sounds so simple but I sometimes go an entire day without just stopping, taking a deep breath, and remembering what is most important me. I try to ask myself if my day aligned with my values. If it didn't, I try to do better the next day. My definition of doing better can be as simple as signing up for a lyra class or just spending more time with the people I care about."
Sometimes when people are diagnosed with cancer, it kind of surpasses everything else and becomes the main focus of their identity. It's a life or death battle, which makes sense for why it holds so much weight, but you are still a person outside of your cancer journey. Who are you?
I love that you made this observation! I remember being terrified that I would suddenly lose everything about who I am and become "that girl with cancer."
If I had to tell you the 5 most important things about myself, I'd say:
Since I was a child, I've wanted to devote my life's work to animal welfare. I haven't landed that dream job just yet, but I'm working on it!

I'm learning to be as kind to myself as I am to others. Being imperfect and accepting imperfection is new territory but I think it's the key to life I've been missing.

My fur-kids are my entire world.

I tend to only wear neutrals. I'd prefer to wear all black every day.

I love taking lyra, contortion, and ballet classes!
Yes, I noticed your workouts! I've seen how you do a lot of pole and aerial workouts which seems so tricky! How did you get into that and what is it like?
I initially took an introductory series to pole and aerial that's required before you can take classes so I could enroll in pole classes. However, I fell in love with lyra.
I love how free the hoop makes me feel. I can spin, hang, and flow to my heart's content. It's one of the only times the entire day everything else falls away and I can simply exist.
As my body was changed by cancer and again by treatment, it was so empowering to go back to lyra and see how my body could serve me in a positive way.
I felt as though my body had betrayed me and practicing aerial made me believe my body could be powerful and do things that were helpful to me.
I love how your Instagram bio says "Learning to live for happiness instead of to-do lists." Do you have any specific memories or lessons learned that stick out to you that you want to share?
I remember, just three months before I received my diagnosis, I was trying to plan my goals for the new year. Every goal I had was about self-improvement. I was going over my goals with someone and she reminded me that one of my goals could just be happiness.
"I could simply have a goal that was to be happy. In all my life, that thought had never crossed my mind. Since then, I've tried to incorporate as much joy into my life as possible."
How do you balance treatments and fighting for your health with also living your life and doing the things that you want to do/ that are important for you?
I think finding balance in treatment, living life, and maintaining your identity is such a delicate balance. Your life is suddenly dictated by appointments, scans, and healing.
You have to do all of the things that will heal you but as your body allows, you have to incorporate what's important to you. I think this process looks differently for everyone.
It's all about what your mind, body and treatment cycle allows you to do.
You're an inspiration to so me and so many others - what inspires you?
You're so kind for saying this. I'm often most inspired by people who have overcome incredibly difficult circumstance and lived to tell about it. I'm even more inspired by people who take the hard parts of life and find a way to turn them into something good.
Natasha Verma is a great example of someone who lost her hair to cancer, developed a cap wig, and now provides them to cancer patients for free.
Tomorrow is..
"filled with hopefulness."
One thing everyone should know how to do:
Everyone should learn how to practice gratitude. Finding a way to be grateful no matter what continues to be the way I see value in my most difficult experiences.
What does a typical day look like for you?
A typical workday involves me waking up after snoozing through like 10 alarms. I'm not even exaggerating. I can sleep through anything.
I stumble out of bed, shower, and put on make-up most days. I find the process of putting on make-up quite meditative. It's one of the only times a day I don't feel anxious. Although, my dog makes this all quite difficult as this is when he wants to play fetch.
I head to work where I'm part of an amazing team of incredible, purpose-driven people.
After work, you'll probably catch me at a lyra, contortion, or ballet class. If I'm not in class, I'm sitting on the couch with my dog, cat, and boyfriend. We spend our evenings watching television, reading, or listening to our favorite music on vinyl.
I can't go a day without… hugging my cat, Chance and my dog, Rhys.
Everyone should… read The Gifts of Imperfection by Brene Brown.
Life is better with a little… bit of struggle and a whole lot of joy and gratitude.
Everyone in their 20's should… know that they are worthy of unconditional love. They should seek adventure. They should chase joy. They should revel in their youth.
One insider thing to do in Bentonville… stroll downtown and take in all of the artwork! We have murals, neon signs, and sculptures just waiting to be discovered. A downtown stroll is paired nicely with a cup of Onyx coffee.
What the world needs right now is… empathy, forgiveness, compassion, and love.
One way to spread love… to be love. Give kindness freely. Be compassionate. Allow yourself and others to be imperfect.